The Dental Marketing Expert Story
Hello, there hardworking dentist and welcome to the Dental Marketing Expert. I wanted to take a little of your time to explain a bit about my company and how we help committed dentists grow their business.
What we do is take all the hard work, the guesswork and leg work out of local area online marketing so your practice dominates.
I'll explain how shortly but first, it's important to understand the state of change in dental marketing today.
The Problem Facing Dentists Today in 128 words
Being the best at filling teeth in your local area is no longer good enough to guarantee new patients and a strong sustainable practice. Competition is fierce as modern marketing moves from traditional offline media to online at a rapid pace which makes keeping up and staying relevant increasingly difficult and time consuming.
Not only that, as experienced dentists delay retirement and new ones enter the profession, 15,764 dentists were servicing the small Australian market in 2014, up from 11,551 in 2010 (source: AIHW and DSRU Report). If you feel like it's getting harder, you're right.
I'm confident you will find the information on this site both eye-opening and valuable.
And I'd love nothing more, after we check each other out, to have the opportunity to significantly help you with the implementation of your entire online marketing strategy. It's all we do, work with dentists who want to dominate.
Because things have changed so quickly over the last couple of years many dentists are surprised just how much marketing has evolved.
One thing is certain, neglecting your online marketing is akin to a slow death sentence for your practice.
Before we start, let me be very clear here: we are not for everyone AND out of integrity we only ever take on one dentist per local area.
Now let me tell you a little about me and my team so you know who you're dealing with…
I was born in Szczecin, Poland
Graduated from a technical college with an Associate Diploma in Electronics
I saw no future for me in communist Poland so in 1988 I escaped and moved to Melbourne with just a suitcase and $50 in my pocket
For over 10 years I worked as an IT and engineering support to help grow number of international telecommunication companies
In 2005 become one of the top online importers and sellers of test and measurement equipment in Australia
From 2008 worked as an internet marketing consultant for one of the leading direct response marketing agencies in Australia (moved from Melbourne to Perth)
I am an author, speaker and founder of Dental Marketing Expert
As you can see I've combined my electronics/system training with marketing and entrepreneurship to create a unique boutique agency for dentists.
Dental Marketing Expert agency was founded in 2012 and I'm extremely proud of the reputation we've built in the marketplace creating tailored, highly effective local marketing blueprints for dentists.
My team includes:
Me (sales, marketing, operations)
4 full timers covering web development, writing, video production, social media, citation directories, QA and accounting
The longevity of client relationships in business is everything. We've got several clients who have been with us since 2013 and going strong.
So I encourage you to read everything here carefully because it contains all the answers to how you can, at an affordable price, dominate your geographical area thanks to specialised online local marketing.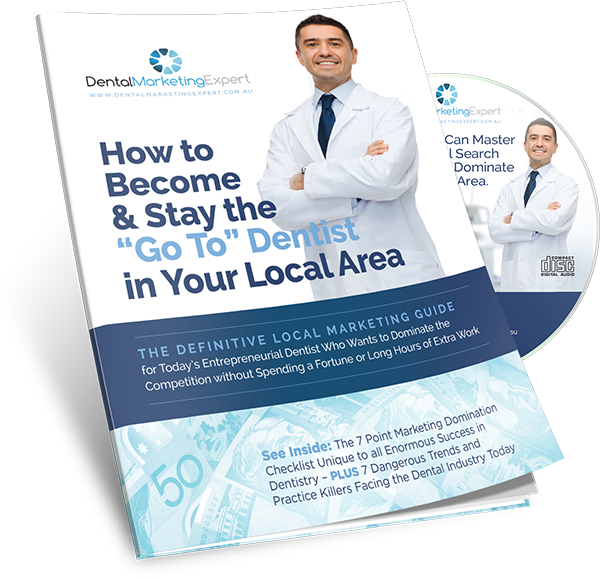 FREE LOCAL ONLINE MARKETING GUIDE AND CD NOW AVAILABLE
Get your copy of How to Become and Stay the "Go To" Dentist in Your Local Area (Valued at $49)
Includes a FREE copy of the popular book, "Local Marketing for Australian Dentists" and DVD – a further $29 in value!