What just 3 clients said about Dental Marketing Expert recently…
"Just this week alone we have increased number of our web bookings almost 100%. We are growing!
"Charles delivers real results, real advice, real support and I back him 150%. His response to my emails and follow ups are lightning fast, and he really goes above and beyond my expectations time and time again with his outstanding work ethic. With Charles, there was no risk in the first month, and he offered "100% No Questions Ask Money Back Guarantee" and no contracts, so I took a chance with him and have never looked back. In fact, I wish I had met him earlier. There is no one I am aware of that is as knowledgeable on the most cutting edge local internet marketing strategies to thrive online as Charles. If you are dentist who has been searching for someone you can trust with your dental clinic online positioning with real results, he is your guy".
Dr. Arto Asadurian
"I avoided his services"
"If it was not for Charles our Google ranking would not be what it is today. We are his exclusive client here for this category in our region. That's right he will select one person from one industry and if you are lucky enough to be that person he will grow and develop your web traffic. I have known Charles personally and professionally for many years and avoided using his services as I felt I was managing well without outside assistance and guidance. Was I wrong! Since getting Charles to help and assist with all facets of our internet presence and exposure has exploded. If the internet is an important part of your business: – who isn't in that category these days. Then do yourself a favour and contact Charles and be impressed with what he can do to assist you!".
Dr Peter Hobson
"Produces the best video / article / infographic content I have seen"
"Having used Charles' services for over a year now it is clear that he is a class act! Not only does he demystify the complex world of SEO, he also produces the best video / article / infographic content I have seen. He leads a crack-squad of skilful professionals to bring the whole show together in a very impressive way. What I have been particularly impressed with is the fact that Charles is always available to contact (even on holidays!). His ethics are impeccable, and he genuinely cares for his clients' business success. I would not hesitate in recommending Charles to friends, family or colleagues."
Dr Angus Heseltine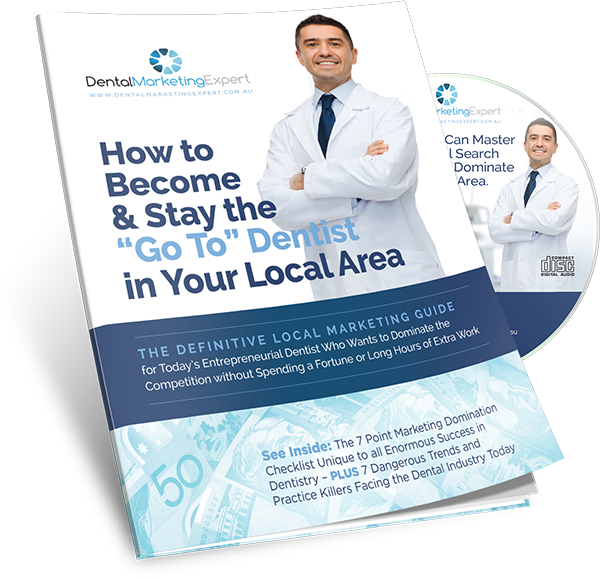 FREE LOCAL ONLINE MARKETING GUIDE AND CD NOW AVAILABLE
Get your copy of How to Become and Stay the "Go To" Dentist in Your Local Area (Valued at $49)
Includes a FREE copy of the popular book, "Local Marketing for Australian Dentists" and DVD – a further $29 in value!