The 7 Easy Steps to New Patients Online
When you're ready to "do something" about your local online marketing, here are the 7 quick and easy steps we go through with you to get you new patients online so you dominate your local area…
Step 1: Your Initial inquiry
You contact Dental Marketing Expert via phone, email, Social Media or the internet.
Step 2: Dental Marketing Triage and Discovery Call
Your FREE 15-Minute Dental Marketing Triage and Discovery Call where we check each other out. If I think I can help you and we don't already have a dentist in your area you'll go to the next stage…
Step 3: Local Marketing for Dentists Proposal
Based on Step 2 if we choose you and you want to go ahead, we send you our proposal which outlines everything we do for you and what you have to do to get the best results in the fastest timeframe.
Step 4: You Give us the Go Ahead
You sign the proposal and get it back to us… as soon as we receive it you go into our onboarding process and we get to work – it's an exciting time for your practice!
Step 5: Your Deep Dive Questionnaire
We send you our detailed questionnaire so we can get to know your business like it's our own. You're asked to complete this and return it to us ASAP.
Step 6: Your New Website – FREE!!
We set-up everything (you don't pay the $3,000 set up fee!!!) and within 30 days your NEW "high converting" dental practice website (also FREE a further saving of $3,500!!)… let the domination begin!!!
Step 7: You're Up and Running!
You receive monthly reports and within 6 months you'll be getting between 1 and 15 NEW patients online – guaranteed!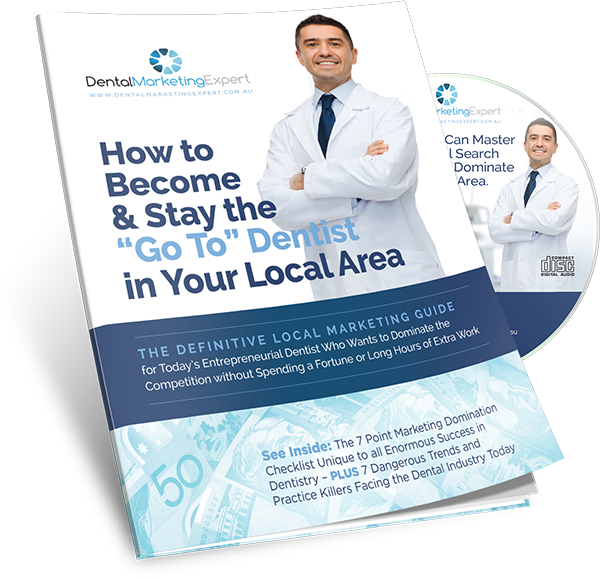 FREE LOCAL ONLINE MARKETING GUIDE AND CD NOW AVAILABLE
Get your copy of How to Become and Stay the "Go To" Dentist in Your Local Area (Valued at $49)
Includes a FREE copy of the popular book, "Local Marketing for Australian Dentists" and DVD – a further $29 in value!