Dental Marketing Expert is a dream solution for hard-working dentists who want to grow their practice.
Let's face it, fun family time or working on new ways to grow the practice is waaaaay more preferable to slaving over a computer trying to figure it all out for yourself.
Who doesn't want more time, more focus and more market dominance?
And of course there's only so much drilling and filling you can do. So see the types of dentists who work with Dental Marketing Expert…
Dentists with More than One Practice Who Want to Grow
Why? Because you don't have time to do it. It makes perfect sense to outsource this important business function to specialists who do it for you.
Dentists with a 2nd or 3rd Chair Vacant for Large Slices of Every Week
Why? Because that empty chair is burning a hole in your pocket and you need to fill it. This is where done for you really leverages your time and energy.
Aspirational Single Practice Dentists Who Want to Add a 2nd Location
Why? Because you're entrepreneurial enough to know that you have to outsource those tasks which aren't your area of expertise. Going to a second location can stretch everything – including you – and you realise the only way forward is to work with trusted outside experts.
Dentists Who Are Doing Well Right Now…
Why? Because you understand what brought you success today will not be enough to create future success… so you bring in specialists with the skills to help you dominate.
Any Dentist Worried About Fighting Off Competitors
Why? Because you KNOW the trend is local online marketing and if you want to DOMINATE your area, you have to get outside help from a proven provider.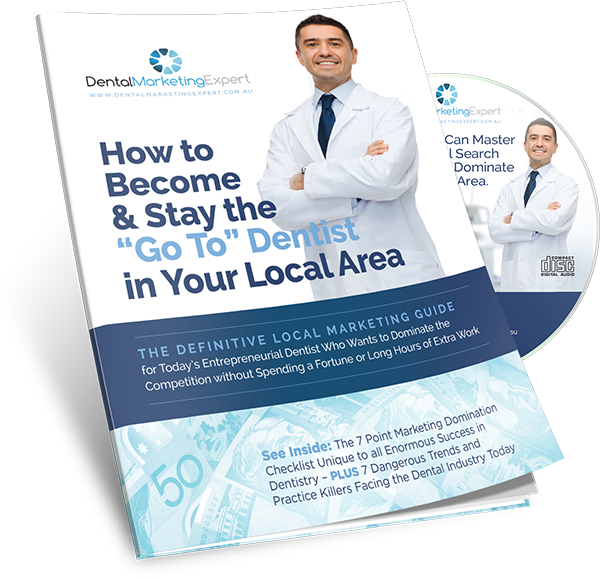 FREE LOCAL ONLINE MARKETING GUIDE AND CD NOW AVAILABLE
Get your copy of How to Become and Stay the "Go To" Dentist in Your Local Area (Valued at $49)
Includes a FREE copy of the popular book, "Local Marketing for Australian Dentists" and DVD – a further $29 in value!