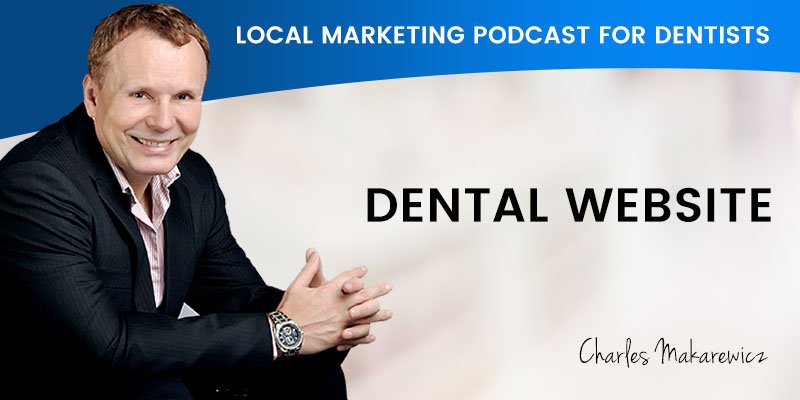 Dental Website
Scott Edwards and Charles Makarewicz discuss "Dental Website" and what is involved in creating a website that meets the requirements to rank well within Google, and to provide the best user experience for the web visitors – your future patients.
Podcast Transcript
Scott:
 I'm Scott Edwards and today, I have Charles Makarewicz with me to discuss your Dental Practice Website and what is involved in creating a website that meets the requirements to rank well within Google, but also to provide the best user experience for visitors to your site, your future patients.
Charles is the founder of Dental Marketing Expert, a company which specialises in Local Marketing for Australian Dentists and is responsible for many dental practices across Australia dominating their local competition and attracting up to 15 new patients each and every week.
Welcome to the show Charles.
Charles: Thanks for the introduction, Scott, and good morning, everyone.
Scott: Today we're here to discuss dental practice websites. Charles, having worked with hundreds of Australian dentists, what can you tell us about the overall quality of their websites when they first come to you?
Charles: Most of the websites basically need a lot of work to improve your ranking, to improve your visibility, to improve your conversion, to have a mobile design first. To be honest, especially with mobile design first, that's 100% of the websites will need some tweaking and need work. With regards of the quality of the content and probably 20% is okay. A lot of website have duplicate content issues. They will attract Google penalty. All duplicate content should be re-written. It's a mixed bag. But on average, 20% would be a really generous number to say that they okay. And perhaps 10% or less are the websites which still need work, but they ranking and they're about 80% cooked.
We have experience pretty much every type of website. We experienced the one-page website, which is based on Google and all other platforms, and anywhere to a really decent design website with 50, 60 pages running on the WordPress with two years of optimization work done, highly ranking. From pretty much a one-pager to the really well-designed website.
Scott: What are the essential components of a high-ranking and high-converting dental website?
Charles: Well, on the podcast three, which is our previous podcast … Please go and listen to it if you haven't heard it. We discussed the importance of mobile first. We touched up a lot about the mobile site as well. And we touched on SSL a little. I was just going to, basically, move on and talk about a lot of other elements.
When a new client comes on board, they have a certain expectations and they want a pretty website. We try to, basically, work with that idea. But our focus is different. Our focus is to get you more patients. We need to educate and we try to educate our clients to came on the same page with us, to find out what is number one in your business.
The website, normally, it should be for your patients. It should not be for dentists. The biggest mistakes dentists will make is to build their dental website or wanted to build one for dentists. And their market is patients, not dentists. The biggest thing which will really cause unease for a patient to go and look at the procedures on the home page, look at the blood, look at the things we're really scared of. Lot of people are scared of the internal procedures, which, for dentists, is so normal. It's a day-to-day, and they're used to it. So please don't use those photos on the home page. And don't put them on Facebook, the ones which are really … To be honest, they're not pretty. For the dentists, perhaps, they are. But for majority of your patients, they not really are keen on that. I would put them aside. And I use them but hide in your gallery. Yes, you can … But warn them. Before you click on that folder, that's what you're going to see. This will help you to get the first impression right.
Let's start from the top. At the top of your website, you need to have branding. Not taking the whole page, but there should be a branding. There should be a logo, clear, well-designed logo, present. And your dental practice name. When someone ends up on that page, they see the branding. They see, ideally, they know that's a dental practice website. Now, if your dental practice's name, which might not be related to dental, Perfect Smiles, for example. Yes, that's sort of related to dental. But it could be cosmetic clinic not so much for a general dental practice. So, ideally, at least explain in a few words what your website is about. It's your local dentist in Kew or your family dentist, which is located in a certain area. That need to be emphasized. You really need to be very clear. We're not talking about writing a long sentence or anything. It's just when someone ends up on your page, they need to understand they are on a dental website.
Secondly, let's go back to NAP: name, address, and phone number. This is part of Google Local. We really want to see it the top of your website. We want to see your address, phone number and your opening hours. As a visitors, and if I want to book something very quickly on the mobile, there should be an easy way for click to call. You don't want to be scrolling. You don't want to be looking for it. You're simply, click and call. You're on the mobile phone. You've got emergency. You perhaps want to see, how do I get there? That will be important. One click to call on the homepage of my mobile, having the directions, being able to click on Google Maps and find where you are. Look at your opening hours again, very easy, accessible, just one click away. As well as, looking at your branding, it should match whatever else is on your website.
Ideally, try to avoid using stock photos. Having some good photo, professional photos done at your dental practice, it goes long way to establish credibility, to establish trust. I think we tend to do a lot of shortcuts here. And a lot of dentists are not comfortable with taking photos, or just don't have the time. I really emphasize that it is critical part of the dental website. If you look at it, some of the website, they might use the same stock photo.
And they use that stock photo everywhere you can go. If someone come across the same stock photo on the two competing website, they get confused. They don't know where they are. Try to avoid stock photos in the places like the home page of the website, in the about us page, contact us page, team page, all those pages really need a professional photo taken at your dental practice.
There's a lot of other things I would like to look at, which over years we well perfected it. And one of the things which I find every dentist would like to see on the website is a slider. Slider has the lowest conversion, proven lowest conversion, because it's very distracting. It takes time to load. We do use it for some clients, because they do insist on it. My preference is, just one message: one good offer, one message, ideally a internal photo, and a good offer. It will be fantastic if you can offer something in regards of teeth whitening, a free dental implants consultation, any of those, call to action, book now, request an appointment, or call us now with a simple call to action. That really works.
Additionally, we like to see booking forms with good tracking system, which can track what devices the booking came from. Has it came from mobile, came from desktop? Things like tracking … As much tracking as possible. We actually, in our systems, we can track the IP address. We can track all the technical aspects. But the important part is we know which page they came through and we can see straight away this in a web form, since all the stats gets emailed to us. We know they came in, for example, from team page. We know they use iPhone.
And then booking web forms has a lot of details which they need to complete, but in easy way. We don't make it super-complicated, but there are some details in drop-down menu, I'm interested in, and then perhaps, having a [inaudible 00:09:23] at least, and hours they would like to book it.
This is booking forms and they are different to scheduling calendar, which has high integration with a booking platform. This is more of the request appointment forms, rather than booking directly. This is what we normally implement in the websites.
Just looking at what's coming, a lot of dental websites nowadays have direct booking integration enabled already. So if you already have that, we can simply put the code on the website and when someone lands on that page, they can book directly to your booking portal.
And that, it's recommended. It might introduce additional costs. I think if you look at advantage of it, there are huge advantages. It's easier for someone to just book directly rather than the request to call. They can do that at midnight. They're in pain. They want to book something urgently. They can see that you have a free slot in the morning at eight o'clock, and they book it. And they know they're already coming. So this is a huge benefit of that. There are some disadvantages. One of the disadvantages we've seen was that difficulties of tracking it. With the web forms and calls, we can track it on the website and through Google Maps, Google my business portal. But with a lot of those portals, integrated portals, we find that they don't allow to put the tracking code on it. And then, just simply, it becomes harder for us to track those bookings.
What else? Well, there is a lot more. And one of the things we want to do is to mind-map your business. We need to look at your dental practice as a holistic business, looked at in holistic way, and review all the treatments you do. And then pick up the top ten and work on pages. We need your top ten pages as a first, most important part. And then, additionally, we obviously build, let's say, 10, 20, 30 more treatments pages. Things like FAQ, it's very important. Create FAQ page. And work on about us page, team pages, also contact us, and emergency contact, perhaps. Emergency pages, which are very specific for dental emergency, are highly beneficial. They need to be customized with all the details, your dental practice details. Opening hours, map, and all that should be included.
There's a lot of information. We haven't really covered everything. I'm just trying to really give you at least 10 critical things when you work with your developer. Make sure you map that up. Or, if you're just mapping up that yourself and just checking your website, make sure all those things are implemented.
There's a lot more, but I think that should cover at least for now.
Scott: Well, Charles, that was lot of information there. Charles, if someone's looking for a new dental website, should they contact you?
Charles: If they're just looking for dental website, no. No, I think … I'm sorry, I think we are not going to be a right match. We're not a web development company. We're a boutique local marketing company specializing in working with dentists and helping dentists to dominate their local areas. Just having a website and having a web design for you is not going to guarantee that. We don't want to offer something and not deliver the full results. I highly recommend to implement a full local marketing system instead of just a website. We've had a chat in previous podcasts and we explained that just having a website, it does not guarantee having more patients. Yes, if you want to have a new website, you could give us a call. I don't mind having a quick chat to just give you an update of what's important right now in regards of how the website should be structured and designed. But at the end of the day, if that's all you want, we're probably not going to be a good match.
Scott: So what you're saying Charles, is if somebody out there is just after a new website, we're not their agency. But, if they're looking for a blueprint to dominate their local area and a website happens to be part of that strategy, you're happy to talk to 'em.
Charles: Yeah. I'd love to talk to them. And I think it's very important to educate yourself and a lot of dentists will just say, "Yeah. I need a dental website." But they don't fully understand that the dental website, it's just not going to cut it. It's not going to get more patients. And I believe that every dentist will need to have a system for generating new leads, generating new patients, an online system. So I'd love to talk to them. And please don't be shy. Just give us buzz. A 15 minutes triage call is available. And I'll talk to you. And I'll look at your the dental practice assets … I will review it and tell you what's important right now and what's critical for the good dental website which converts. And on the top of it, I provide additional strategy: what you can implement internally in your dental practice to get more bookings.
Scott: Well that wraps up our show for today. And thanks again for your time, Charles. Now, if you're interested in taking Charles' offer and having a 15-minute chat to discuss a blueprint to take your dental practice to the next level and be the go-to dentist in your local area, the way to do that is to go to our website, DentalMarketingExpert.com.au/call, where you can book a call at a day and time that suits you.
Now, keep an eye out for our next podcast, which is coming up shortly, which will be about content marketing and how that fits in with the overall blueprint for market domination for local dentists. Until next time, bye for now.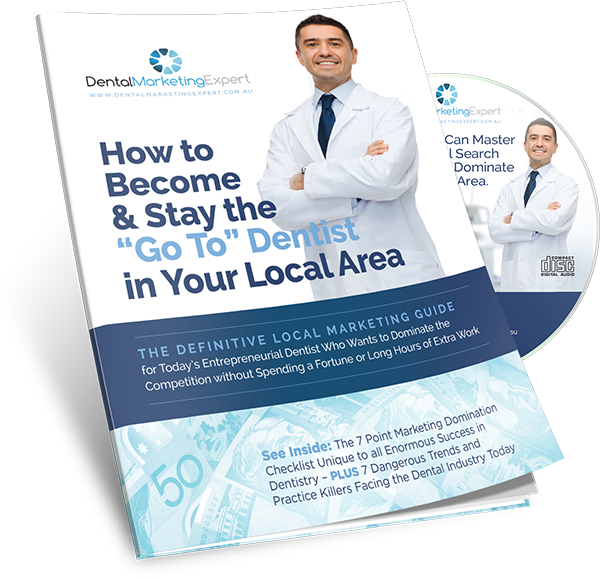 FREE LOCAL ONLINE MARKETING GUIDE AND CD NOW AVAILABLE
Get your copy of How to Become and Stay the "Go To" Dentist in Your Local Area (Valued at $49)
Includes a FREE copy of the popular book, "Local Marketing for Australian Dentists" and DVD – a further $29 in value!